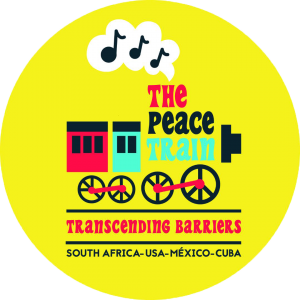 Since I wrote The Weaver's Daughter, the situation at the border in Tijuana has changed dramatically. There are thousands of migrants from Mexico, Central America, Haiti, and many other parts of the world waiting in camps and shelters at this border city for an opportunity to seek asylum in the United States. Climate change resulting in drought and hurricanes as well as an increase in violence are among other factors driving people from their homes.
Later this month I'll be traveling in Mexico with Sharon Katz and the Peace Train. In 1992 Sharon Katz led the creation of ". . . the first, 500-voice mixed race choir in South Africa to break through apartheid's barriers . . .  to spread Nelson Mandela's dream of justice, equality and a better life for all. In many parts of the world today, our work is needed more than ever. That's why we organize The Peace Train's concerts and our Transcending Barriers projects worldwide."
The Peace Train website goes on to describe the project at the border: "We'll be convening people from across the USA in San Diego, California. From there, we'll cross the border into Mexico for workshops and rehearsals with youth and families in Tijuana in preparation for filming a music video at the place where the mural-covered border wall extends into the Pacific Ocean. Then we'll all board The Peace Train and travel along the northern border of Mexico that's used by many asylum seekers and give a concert in a local community with indigenous musicians."
Immigration is an issue the whole world must address. As climate change continues to effect people and their livelihoods worldwide, richer countries will have to find a way to help the people who are increasingly displaced. We are all one race in a world that is getting smaller.